Falafels are street food sold in Middle Eastern countries and are made with dried legumes such as chickpeas or fava beans soaked in water for many hours and then they are combined with herbs and spices.
They are then bound together with flour and bulgur wheat and then they are shaped into small balls or patties and fried.
In Greece we make something which is similar to Falafels, called Revithokeftedes. However, they are quite different in taste, as in Greece we boil the chickpeas and the spices used are much different.
A few weeks ago I went to the Central Market again with another friend and this time I showed her around.
This time we visited the outdoor market with the vegetables. It's not a very big street but there are stores on one side of the road and stalls on the opposite.
I was hoping to find some cilantro and chives and was disappointed because after asking at some stalls no one had any.
The last one I asked was in one of the stores and it seems that the store was owned by an Egyptian, who was surprised that I wanted to buy cilantro.
He showed me where it was and he told me that the Greek people don't like it and he was so excited that I wanted to buy some that he started telling me ways to use it.
I told him that I was also looking for chives but I could not see any on his stalls and his face lightened up and said: "You want chives, I'll bring you some right away".
They had a basement was used as a storehouse and he called someone in Arabic and soon the elevator came up with a pot with some chives in it. I
t was not planted in soil but just preserved in this pot and he told me I should store it in the refrigerator with the pot. In fact it lasted 15 days in the fridge.
After buying a few other things, we visited another Egyptian store, called Kleopatra, 11 – 13 Kratinou Street, Plateia Dimarchiou (City Hall Square) and picked up some pomegranate syrup, fine bulguar wheat for koupes (kibbeh) and Cypriot pita bread, along with a few other things.
They had a variety of halwa and wanted to try some to see if there was any difference with the Greek one and I was not disappointed. It was just as good.
The only thing I bought and was disappointed were a box of maamouls. I chose some which were stuffed with figs, as I love figs, but the crust was too soft and the filling was not as good as I expected.
The first time I went to this store with Marianna, we bought some ready made falafel, in which you added just water and fried them.
Since then I had made my mind to make falafel and when I saw some fava beans I put them in the basket determined to make falafel from scratch. These fava beans have really got me confused. I knew that fava beans are called koukia in Greek but the employee in the shop told me they are called foulia.
If these fava beans are the same as Greek koukia, how come they are so tiny, at least half the size of the Greek koukia? Are foulia and koukia the same thing? In Greece fava is the yellow split pea and in Cyprus foulia is a white flower, with a lovely aroma like jasmine.
Are fava and broad beans the same thing? Can anybody help me sort this out?
The weather was lovely that day and we had a great time looking around in the narrow streets around the market place. Before leaving we wanted to rest, drinking a cup of coffee and enjoying the view.
This is a recipe I bookmarked a long time ago but never managed to make it. I changed the recipe a little by adding less garlic, harissa instead of cayenne or paprika and fried them in extra virgin olive oil.
I fried half the quantity and served them as a side dish with Cypriot grilled pita and tahini sauce.
The remaining I covered with cling film and stored it in the refrigerator and fried them the next week.
H

ow to make

Falafel
s:
Soak the fava beans or chickpeas in plenty of water overnight.
The following day, drain them and place them in a food processor, a little each time, and process them until mashed. Add a tablespoon of water, each time if necessary. Remove into a bowl.
In the same food processor, add the onion, cut into smaller pieces, the garlic, the olive oil and lemon juice and process.
Add the onion mixture to the fava beans and add the baking powder, flour, bulgur wheat, cumin, harissa, salt and pepper as well as the parsley and the cilantro and mix.
Cover mixture with cling film and refrigerate for a few hours.
Form into patties or small balls and fry in plenty hot olive oil until golden brown.
Remove on kitchen paper to drain excess oil.
Notes: The mixture can be prepared in advance and stored in the refrigerator for a few days covered with cling film. If the mixture falls apart, add a couple of tablespoons of flour or bulgur wheat.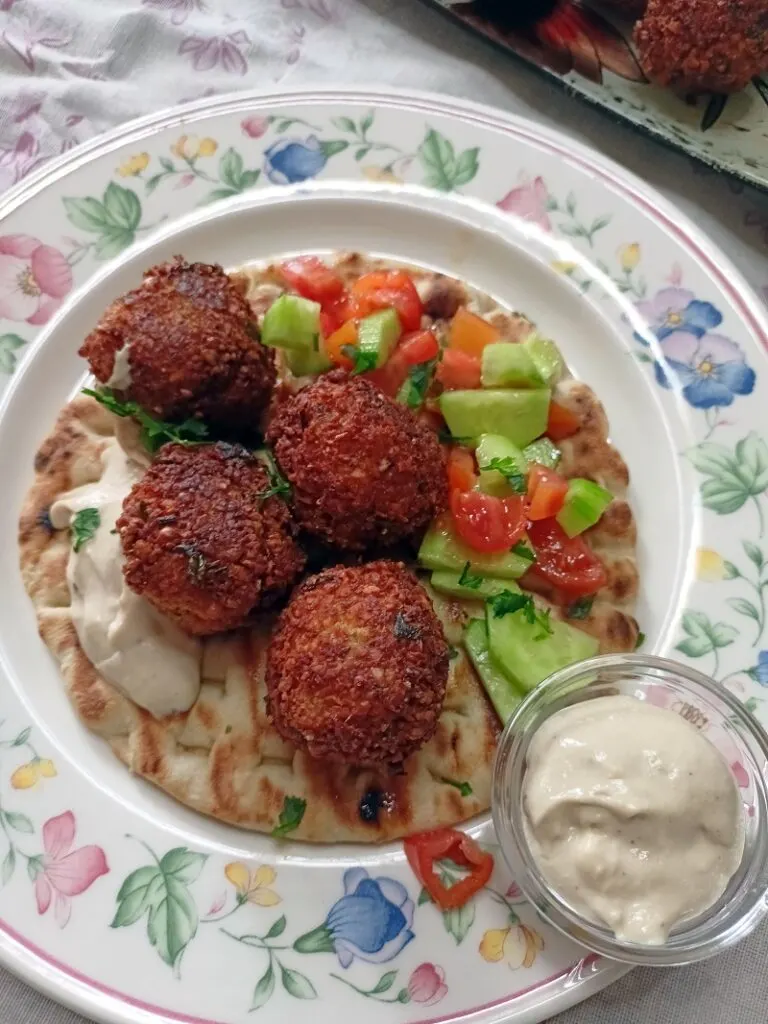 This is my entry for Bookmarked Recipes, hosted by Psychgrad of Equal Opportunity Kitchen. There's been a little confusion about the dates I am hosting and I am hosting this week instead of the other, so just send your recipes to [email protected].
You still have time to signup for Earth Hour. Don't forget to switch off the lights tonight at 8:30 p.m.
Homemade Falafels
Falafels are deep-fried balls traditionally found in Middle Eastern cuisine, usually made from ground chickpeas, though some variants contain broad beans or fava beans
Ingredients
2 cups chickpeas, soaked in water
1 onion, pureed
1 clove garlic, pureed
2 tbsp olive oil
2 tbsp lemon juice
¼ cup fine bulgur wheat
2 tbsp all-purpose flour
1 tbsp baking powder
1 tbsp salt and freshly ground black pepper
1/3 cup parsley, finely chopped
¼ cup cilantro, finely chopped
1/2 tsp cumin
1/2 tsp sweet paprika
¼ tsp harissa
1 tbsp crushed coriander
Olive oil for frying
Instructions
Put chickpeas in a bowl, covering them with 5 – 8 cm / 2 – 3 inches water on top and soak overnight.
Drain the Chickpeas and put them In a food processor and pulse them. If you have a small food processor, do this gradually but without puréeing them. If you find any difficulty in pulsing them add a tablespoon water and continue.
Empty them in a bowl.
Put the onion, garlic, olive oil and lemon juice in the food processor and pulse.
Add all the remaining ingredients and mix well.
Refrigerate for at least half an hour and form them into balls or patties.
Heat about 2 ½ cm / 1 inch of olive oil in a non-stick frying pan or skillet over medium-high heat.
Fry until golden brown on all sides.
Place on kitchen paper to absorb excess oil before serving.
Serve as an appetizer or sandwiched in a pita bread with some salad and with tahini sauce.
Nutrition Information
Yield

20
Serving Size

1
Amount Per Serving
Calories

97
Total Fat

3g
Saturated Fat

0g
Trans Fat

0g
Unsaturated Fat

2g
Cholesterol

0mg
Sodium

255mg
Carbohydrates

16g
Fiber

2g
Sugar

1g
Protein

3g
"These values are automatically calculated and offered for guidance only. Their accuracy is not guaranteed."
Other relevant recipes:
Revithokeftedes (Greek chickpea patties)
Kopiaste and Kali Orexi,