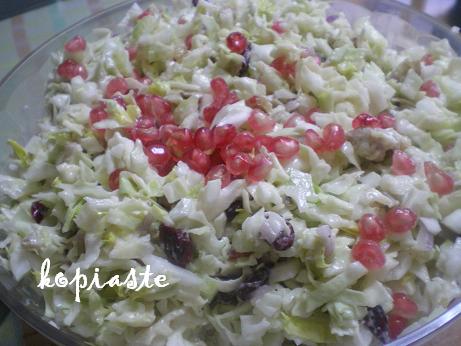 I know I said that I would be away for a few days to take care of some things I needed to do at the house and I've done most of the things I wanted to do. However, I will be away for another week and hope that you will still be visiting but I will not have access to the internet where I will be.
I shall be going to Switzerland and France.
I am leaving you with the best ever salad I have ever eaten. Sweet, sour, tangy, creamy and crunchy, this is the ultimate salad. So many tastes and textured, I am sure you will love it. I have been making this salad for years but I don't make it very often because it is a bit fuzzy. I make it only on special occasions and I made it last week when I had some guests. Believe me they couldn't stop eating and I regret I made it because they ate so much that they couldn't eat all the other things I had made.
This salad is made with cabbage, celery, onion and dressed with a delicious salad dressing, with nuts and dried fruit.
If you think it makes a lot, you are right, but don't worry. It's never a lot and it is better the other day and the day after, and the day after that as well. You can eat it for 3 or 4 days and it is just as good.
The recipe is included in my cookbook Mint, Cinnamon & Blossom Water, Flavours of Cyprus, Kopiaste!

Tags: Cabbage, crambi, Cypriot cookbook, Festive, Kopiaste.. Flavours of Cyprus, lahano, lananosalata, Pomegranate, Salads, special occasions