My New Cookbook is now available on Amazon Kindle:
My Cookbook (in English) Mint, Cinnamon & Blossom Water, Flavours of Cyprus, Kopiaste!
NOW SOLD ON ALL AMAZON STORES (U.K., ASIA & EUROPE).
You can buy each volume of the cookbook in pdf format separately for 6 Euros each.  Go to Paypal, choose send money to friends and family and make the payment by just adding my e-mail address, ivyliac AT gmail DOT com and  stating which volume you want and in which language.
I will send you the book immediately or to any e-mail you specify.
Special price for both Volumes of my cookbook Mint, Cinnamon & Blossom Water in pdf format, at 10 Euros .
For further details, please contact me at ivyliac AT gmail DOT com  or through the contact form.
If you want to buy it in print or download it on Kindle, please continue reading.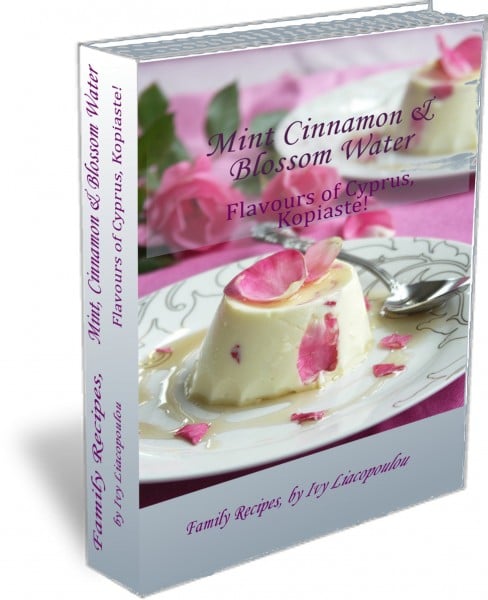 Cypriot cuisine is shaped by the island's Mediterranean climate, geography, and history. The majority of its recipes are based on Greek cuisine and the Mediterranean Diet, which is one of the healthiest in the world, using fresh, wholesome ingredients.
Cyprus's strategic location in the Eastern Mediterranean, situated between the crossroads of three continents, had brought to the island many conquerors and thus its cuisine has evolved into an amalgamation of diverse tastes and textures, with an unmistakable mark that makes it undeniably Cypriot.
I have created a new blog where you can see all the pictures of the recipes which are included in the cookbook.  The blog is update regularly with new recipes with Cypriot influence. You can read Reviews of what people say about the book and Take a look inside.
Ιf you are interested for the cookbook (in print) please follow this link. For the readers of my blog I am offering a discount by applying discount code : 2C7LWMYF.
After the success of my cookbook in print  and after requests from my readers, my cookbook is now also available in digital form.
The e-cookbook has now been expanded with a collection of over 260 of the best traditional Greek-Cypriot recipes and is divided in two Volumes.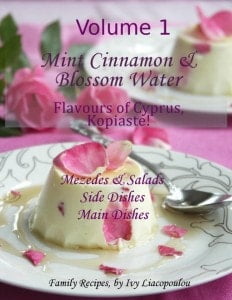 Volume 1 includes all Savory dishes, mezedes, side dishes and salads.
In Volume 2, you will find Breads, bread products, Pites (pies), snacks, almyra (savory pastries), traditional and modern Desserts, Glyka tou koutaliou (fruit preserves), marmelades (jams), drinks, etc
The e-cookbook for kindle is now also available in all Amazon stores and you can follow the links below or look them up using their ISBNs:
Cookbook in print: 978-1449997816
E-cookbook Volume 1: 978-1-4657-1787-0
E-cookbook Volume 2: 978-1-4658-8401-5
DON'T HAVE A KINDLE?
If you don't have a kindle, you can still download and enjoy these books. Simply download the kindle app to your laptop or desktop and enjoy! 
Download Kindle app here.
You can look inside each book and sample some of its recipes.
Update 25 November 2012
The first volume of my Cookbook Mint, Cinnamon & Blossom Water, Flavours of Cyprus, Kopiaste, has finally been translated into Greek.
The Greek title of my cookbook is «Kopiaste stin Kouzina mou», which means Welcome to my Kitchen.  It would be a great gift for all your Greek friends.
If you would like it as a pdf you can  buy it directly from me via paypal at the price of 6 Euros and it can be sent to whichever e-mail address you like.
Coming soon:  The second volume of my cookbook  in Greek «Κοπιάστε στην Κουζίνα μου». 
Coming soon:  My big (low) Fat Greek Diet – 100+ Greek Recipes, a cookbook for weight loss, with Greek recipes, based on the Mediterranean Diet.
Coming soon:  "Kopiaste to Greek Hospitality, Made in Greece", a collection of traditional Greek recipes.
Last but not least many thanks to all my loyal followers and readers of "Kopiaste", who have bought the hard cover book but also to all of you who are now buying the e-cookbooks as well.
Thank you and Kopiaste ,